kojie.san DreamWhite is a range of anti-aging products that promise youth regeneration by restoring younger and fairer looking skin.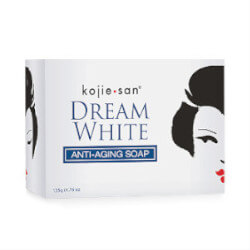 Anti-Aging Soap
Combines the youth-regenerating properties of Collagen and Elastin plus the lightening effect of Kojic Acid. The moisturizing and whitening properties of the product will leave your skin feeling revitalized, refreshed and younger-looking.
Paraben Free Available Sizes: 65g and 135g

Anti-Aging Facial Toner with Collagen
Formulated for all skin types. It contains Marine and Botanical Extracts making skin moisturized thus helps prepare skin for other anti-aging products. It helps rehydrate, whiten and nourish skin. It also has a pore tightening active for smoother and firmer skin.
Paraben Free Available Sizes: 100ml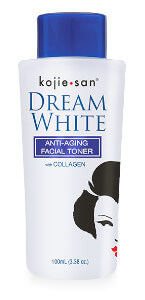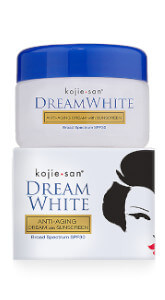 Anti-Aging Cream with Sunscreen
With SPF30, this lightweight formula contains youth regenerating properties of Milk Peptide Complex (MPC) and skin conditioners that provide moisture with continuous use. It helps lighten skin and provides skin protection form harmful effects of the sun for a fairer, younger looking skin.
Paraben Free, Hypoallergenic Available Sizes: 30g0g

Anti-Aging Overnight Cream
A concentrated moisturizer that helps revitalize and nourish skin during sleep. The combine effects of youth-generating properties of Milk Peptide Complex (MPC) and smoothening skin conditioners helps provide nourishing hydration and firmness to face and neck leaving skin smooth and radiant in the morning. It helps diminish the appearance of fine lines and wrinkles.
Paraben Free, Hypoallergenic Available Sizes: 30g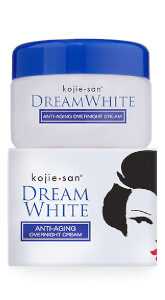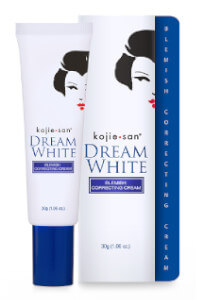 Blemish Correcting Cream
A cell renewing formula that helps reduce dark facial spots and other skin imperfections. It contains Kojic Acid and Keratopeel - whitening, exfoliating and moisturizing actives that gently helps remove dead skin cells to reveal a clearer, brighter and younger-looking skin.
Paraben Free, Hypoallergenic Available Sizes: 30g